Wow, oh wow! The COVID-19 pandemic has revealed the tremendous fragility of our global economic and social structures. What a whirlwind it has been! But fear not, because we have the solution: entrepreneurial education!
Yes, you heard that right. The Didactic Mine project is coming in hot to provide young workers and students with the necessary tools to become true business geniuses. Future entrepreneurs, here we come!
Our goal is crystal clear: we want to foster that entrepreneurial spark in young people, so they can not only succeed socially but also support their communities and take the quality of youth work to a whole new level. How do we achieve that? Well, we rely on three fundamental pillars: environmental sustainability, diverse didactic activities, and, of course, the digital dimension. We're the cool kids on the block!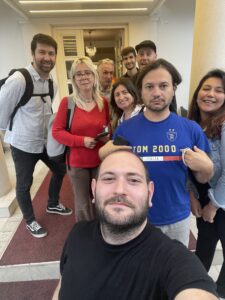 Our activities are designed with a very specific purpose: to help those incredible youth monitors guide young people through that challenging transition phase from childhood to adulthood. Yes, you heard it right—we're here to support them every step of the way, from start to finish! Our method has been crafted with love and dedication to accompany young individuals throughout their development, from their first steps to becoming fully-fledged adults.
So, dear readers, if you want to be part of this incredible entrepreneurial adventure, if you want to join a generation of young entrepreneurs and revolutionaries, don't hesitate to join us. We're here to change the world and do it in a fun and exciting way! What are you waiting for? Go ahead, brave young souls, the future awaits you!
Check out our newsletter to find out more about the project.